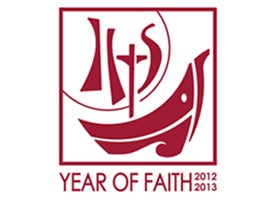 Something BIG is happening in our Church.
Not just our parish church, but in our global Church.
In his apostolic letter Porta Fidei, Pope Benedict XVI announced that October 11, 2012 to November 24, 2013 would be the "Year of Faith." This kind of thing doesn't happen very often, so it's a great opportunity for all of us!
Beginning this Thursday, we have a chance to make the faith we profess an even greater reality in our lives, and in the lives of our children and/or students.
There are many ways to grow in faith, but one of the most important is to use the intellect that God gave us to learn more about our beliefs. The pope has encouraged us to open the "door of faith" by praying, reading, and studying our faith more in the upcoming year.
The bishops of the United States suggest two very important activities for the Year of Faith: reading the Catechism of the Catholic Church and studying the documents of Vatican II. You also can find more about the Year of Faith here:
Year of Faith website (Vatican)
Year of Faith website (U.S.C.C.B.)
Read the Catechism in a Year
Year of Faith Resources